We have twenty five years of branding experience, web design, website development, logo design, promotional materials, marketing pieces and product development. We can take it from the think-tank concept through to the finished product. We have been designing and producing T-Shirts for over 2 decades for businesses, schools, churches, camps, conferences, VBS and retail. We design, screen-print, embroider and deliver whatever your garment need is for discounts only available from a source who has been working with the same production houses for years. Our relationship with them means you get the first look, best look at the lowest possible pricing. Keith is also an Award-winning cartoonist who can create mascots, design sets, and generate banners and signs all with the clever and eye-catching approach only whimsical cartooning can produce.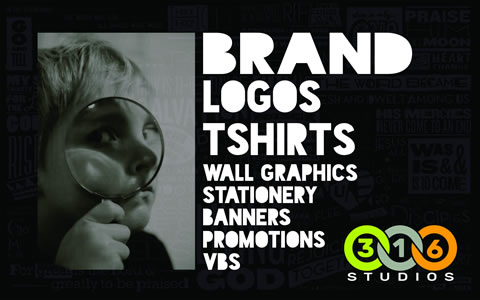 You'll rave about the final product and be surprised at how inexpensive quality graphics can be with 316Studios. We take pride in meeting deadlines and budgets. We understand economy is key and work to keep costs low, but never the quality.
Contact us to discuss your next visual need or project. If we can't meet your need, we know someone in the industry who can and are always willing to bring in others to make sure your project gets done right.
We have a multitude of references and previous work we can share with you. What we do sells itself and will have you coming back for more. Email us at info@threeonesix.org for references or to inquire about the scope of a project you need completed, pricing and timing. The conversation and advice are always free. Call or Text if you're under the gun timing-wise and I'll get with you right away!
Don't be shy... Get in touch with Keith today.